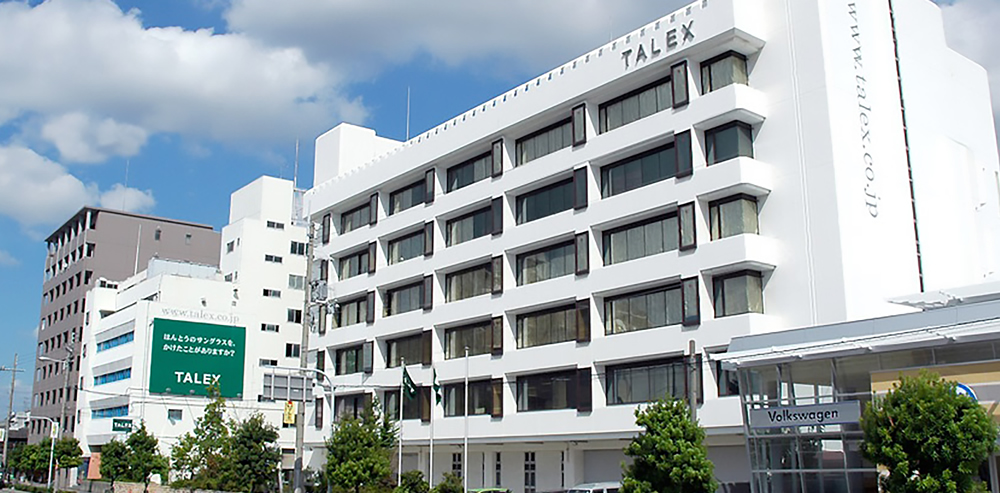 TALEX Polarized Lens Maker Our history, our future
TALEX was founded in Tajima, Osaka—the birthplace of eyeglass lenses in Japan. We are the only lens manufacturer in the world that specializes exclusively in polarized lenses.
We have been making eyeglass lenses for over 70 years, and have been developing new polarized lenses and lens materials for over 40 years.
At TALEX, we never use mass-production processes in our plastic manufacturing, such as injection or press bending thermoplastic material. We use the monomer casting method to create our lenses, making them optically superior. We use iodine compounds to color our lenses, making them brighter and clearer. We use our original 'noisy light-cutting filter' to polarize our lenses, making them the best polarized lenses in the world.
We just can't stop striving to develop new technologies, new techniques, and new ways to make a better lens.
---
1938

Tamura Lens Manufacturing Co., Ltd. (later TALEX) founded in Tajima, Osaka, Japan Began production of lenses for reading glasses

1946

Began production of lenses for sunglasses

1953

Recognized as one of Japan's most promising companies for international exporting

1966

Began production of polarized lenses

1970

Developed and produced the world's first spherical glass polarized lenses

1975

Developed and produced the world's first spherical plastic polarized lenses

1978

Received the prestigious Soko Kyokujistu Award for Achievement

1984

Officially designated as the sunglass lenses for the 1984 Los Angeles Olympic Games

1985

Increased exports for use in various sunglass brands in USA, Canada, Europe and Australia

1990

Developed and produced the world's first glass polarized lenses able to cut UV 400 rays over 99%

1992

Developed and produced the world's first plastic photochromic polarized lenses

1996

Opened our first domestic retail shop, TALEX Proshop & Showroom, to cater directly to our customers

Released the patented lens coloring 'True View', which creates a more naturalized vision

1999

Extended domestic marketing by introducing the TALEX Proshop System, to offer direct sales for eyeglass retailers and to expand knowledge of sunglass lenses to customers

2001

Began research and development of impact resistant lenses with new materials

2006

Released 'CACCHU'—our ultra high-impact resistant polarized lens, providing superior impact resistance with no distortion

2009

Independent research team at Osaka City University Graduate School of Medicine found TALEX lenses effectively reduced eye fatigue

Participated in the 2009 International Optical Fair in Tokyo, Japan (IOFT)

Released Mo'Eye Gray and Mo'Eye Brown (VLT 75%, Polarization 20%)

Released sunglasses collaborated with BMW Japan

2010

Osaka City evaluation revealed that city bus drivers wearing TALEX polarized lenses reported significantly reduced eyestrain as well as related neck and shoulder strain

2011

Released high-index 1.60 aspherical single vision and aspherical progressive
Multi-focal lenses

Released high-index 1.60 spherical single vision lenses

2012

Released sunglasses collaborated with DAIWA Fishing

2013

Supported Japanese alpinist Mr. Yuichiro Miura to reach summit of Mt. Everest at his age of 80 by providing special polarized glasses

Released high-index 1.60 aspherical free form progressive multi-focal

Supported the 55th Japanese Antarctic Research Expedition

Released sunglasses collaborated with KEN OKUYAMA and CAR GRAPHIC

Released sunglasses collaborated with STI
(STI:SUBARU TECHNICA INTERNATIONAL)

2014

More peaceful and comfortable in your daily life.
Released new colors "Peace series" (VLT 50%, Polarization 50%)

Released a new color "Mo'Eye Purple" in Mo'Eye series

Comfortable brightness with high precision three-dimentionality
Released a new color "Luster Orange"

Controlling colors, accentuating an outline and presence
Released a new color "Airy Purple"

Mounting five functions to protect human eyes at the most grueling place in the world --- Released "Everest Orange" (VLT 6%, Polarization 99%)

Released sunglasses collaborated with SUBARU

2015

Released high-index 1.60 aspherical free form progressive multi-focal in 6 base (designed for far vision / near vision)

Released high-index 1.60 aspherical free form progressive multi-focal(designed for mid vision / near vision)

Participated in the 2015 International Optical Fair in Tokyo, Japan (IOFT)

Supported Porsche Sport Driving School of japan by providing sunglasses

2016

Improved coatings for plano and Rx (added ultra super hydrophobic coating)

Released sunglasses collaborated with UTOOL (produced by Yuto Nagatomo)
Company Profile
Company Name
TALEX Co., Ltd.
Address

Headquarters / Tajima Office
4-4-38, Tajima, Ikuno-ku, Osaka, 544-0011, Japan

Imagawa Office
5-1-32,Imagawa , Higashisumiyoshi-ku, Osaka, 546-0003, Japan

Founded on
May 1, 1938
President
Hiroo Tamura
Shinzo Tamura
E-mail to
trading@talex.co.jp